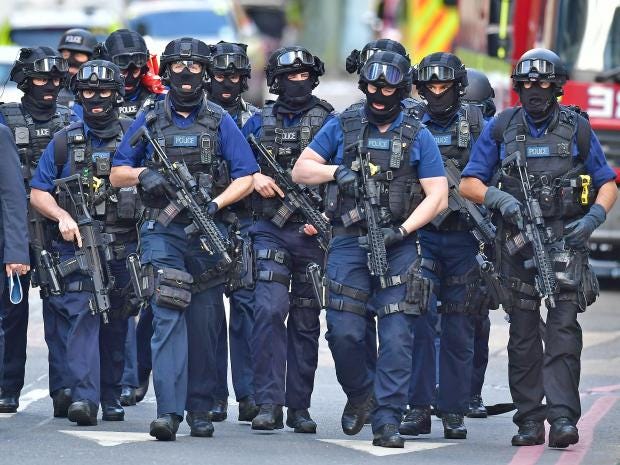 Police chiefs have warned that the Government's plan to give officers a pay rise costing £50m without providing extra finance risks rising crime and staff being laid off.
Senior officers said they backed Theresa May's move to ease pay restraint, but that the cost could not be absorbed by police force budgets already stretched to breaking point after years of austerity.
It came after the Prime Minister proposed a small pay rise for police and prison staff in a move widely seen as marking the end of the blanket cap on public sector pay.
But the offer was met with derision and anger from unions who highlighted how the increase falls short of the rate of inflation and so still represents a real-terms cut. The row over public sector pay has now become a key political battle ground, with Labour backing union strike threats and Tory ministers under pressure from their own benches to loosen the purse strings.
Under proposals set out by Downing Street, police officers will be offered a 1 per cent rise in 2017-18, plus a "non-consolidated" additional 1 per cent – a bonus only accounted for in the current financial year – giving them in effect a 1 per cent rise. Prison officers will be given a 1.7 per cent rise, with the increase funded from within existing budgets in both cases.
Police chiefs complained they have only budgeted for a rise of 1 per cent this year, in line with the long-sustained cap, but must now find an additional £50m to pay for the extra 1 per cent rise in the year to September 2018. Chief Constable Francis Habgood, National Police Chiefs' Council lead for pay and conditions, highlighted how wages make up more than 50 per cent of total force budgets, which have suffered real terms cuts of 18 per cent since 2010. He went on: "Chiefs and police and crime commissioners are committed to spending the money we have with absolute efficiency at both local and national level.

"However, without better real-terms funding protection from Government, an award above 1 per cent will inevitably impact on our ability to deliver policing services and maintain staffing levels."
Mr Habgood said total force reserves of some £1.8bn, needed to tackle unexpected crime spikes, had plummeted 30 per cent since 2015 and are projected to fall by the same percentage by 2019. West Midlands Police and Crime Commissioner David Jamieson labelled the announcement a "hollow gesture" and "the worst of all worlds", warning it could result in fewer officers on the streets.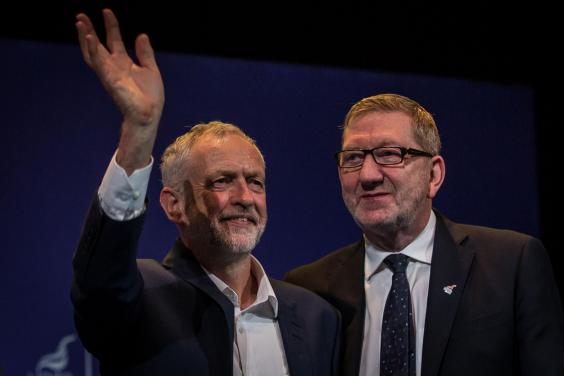 The Home Office said overall police spending has been protected in real terms since 2015 and the police's independent inspectorate has highlighted the potential for further efficiencies. Home Secretary Amber Rudd said:
"This award strikes a fair balance for police forces, officers and taxpayers." Downing Street underlined that the Government would show "flexibility" when looking at settlements for public sector workers for the year 2018-19. But Chief Secretary to the Treasury Liz Truss gave a clue as to whether all workers might expect a rise next year, when she said:
"What we are making sure is that we look at it on a workforce by workforce basis because there are very different issues for teachers, than for nurses, and for police officers."
The newly confirmed rate of inflation on Tuesday of 2.9 per cent, means the Government's offers to police and prison officers this year actually amount to cut when compared to the rising cost of living. General secretary of the prison officers union Steve Gillan said he would be seeking to take industrial action. "I have made it clear that it is a pay cut. It is not acceptable," he said.
"Our executive will be looking to coordinate action with other trade unions." Unions representing civil servants and higher education staff are also holding industrial action ballots, while the TUC is organising a national demonstration in October. The GMB said the pay offer was "robbing Peter to pay Paul", while Janet Davies, general secretary of the Royal College of Nursing, said "vague signals" of what may come next year would not prevent industrial action.
The TUC's general secretary Frances O'Grady described the rise as "pathetic", adding: "If ministers think a derisory rise like this will deal with the staffing crisis in our public services, they are sorely mistaken." Unite chief Len McCluskey warned ministers that the union movement was prepared to take stronger action to oppose the wage cap on public workers.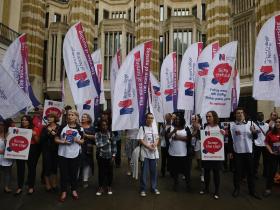 He said: "In terms of the concept of coordinated public service workers action, yes, I think that's very likely and very much on the cards."
The BBC reported that Mr McCluskey had said he was prepared to break the law – by defying a legal requirement that strike action needs to be approved by a ballot with a turnout of more than 50 per cent – to pursue strikes. Labour leader Jeremy Corbyn won a standing ovation from the TUC Congress in Brighton after voicing strong support for union campaigns for a pay rise. Ahead of a Labour-led debate on public sector pay in the Commons on Wednesday, Mr Corbyn said unions were right to be sceptical about the Government's announcement.
He went on: "Unions have a right to ballot their members on industrial action. Surely it is the role of the Government to respond to concern and anger." But pressure for change is also coming from the Tory benches. Ms May's weakened position since the election mean only seven Conservative MP's need rebel to inflict defeat on the Government.
Former health minister Dan Poulter said: "What I'd like to see is the Government beginning to listen to the independent pay review bodies and allowing them to have a free hand and genuine independence, not being told they have to limit public sector pay increases to 1 per cent. "And seven years of pay restraint is too long. And it's about retention and recruitment of staff and recognising the cost of living is rising and we need to see across-the-board lifting of that public sector pay cap."
To receive more updates from Frayokit News, kindly
SUBSCRIBE TO OUR NEWSLETTER
or follow us on
FACEBOOK
and on
TWITTER
For inquiries, adverts placement and news tip off, kindly call +2348083720023, +2348073006684 or send us email on:
[email protected]
Add Frayokit News On BBM. Pin: 5C130E7E or add us on WhatsApp. WhatsApp number: 08083720023
SUBSCRIBE TO OUR NEWSLETTER
Join us for free and get valuable content delivered right through your inbox.